"A Spark" - A Reflection on the symbolism of candles
Dominican Nuns Ireland
A SPARK
From my point of view, God is the light that illuminates the darkness, even if it does not dissolve it, and a spark of divine light is within each of us. (Pope Francis)
For me the candles are more than decoration, they are a reminder of the wonderful acts of God's love, of His constant presence in our life.
During my work with candles I realise that a lighted candle accompanies a person throughout his life. People come to us and ask for candles for Baptism, First Holy Communion, Confirmation, Wedding and also in many special moments of their life. On our last journey we also light a candle thus proving that we have kept the faith received in baptism. Heaven is full of light because of God's presence there. God is the greatest Light!
The candle also symbolised all that we receive from Christ and give back to God. Light allows us to see things as they are, so light is a symbol of TRUTH.
For St. Jerome candles are first and foremost a symbol of that spiritual joy that comes from knowing the eternal truth.
Just as a candle cannot light itself, so none of us can awaken supernatural faith by our selves. We receive faith as an undeserved gift from outside, and the sign of this is the lighted candle that each new baptised person receives. The drama begins when the candle of our life, our body wears out and finally goes out, instead of being 'melted' down by faith. Heaven is not a storage place for candles, but a reward for bringing all life, until the end, into light for God and others. As a burning candle offers its wax, it transforms into fire and light. Yes, and every Christian should radiate the light of faith and love. With his deed, word and example, he should testify to Christ, and light others with the fire that he himself has received. "Neither is a light put on, and not under a basket, but on a lamp stand, so that it may give light to all in the house" (Mt 5:15). Our good deeds are meant to be a light for our neighbour: "Let your light so shine before men, that they may see your good works and give glory to your Father who is in heaven" (Mt 5:16).
The flame of a candle always goes up, just like a heart felt prayer to a loving God. That is why we put candle in front of an icon or a statue, as if prolonging our short prayers. During my time of Adoration I like to see candles on the altar silently and humbly decreasing ... Real spiritual life is about loss of self, sacrifice, inner transformation and change. Our Sisters for over 300 years continue to keep that candle light on!
In these dark winter's days we are searching for more light. Many people during pandemic time call for simple candle for himself or for their family members, or for friends to give them some sign of hope, of joy, of love. They believed that our candles are filled with prayer and love, and that makes them different.
To place a lighted candle at a window at Christmas is an old Irish tradition, may our homes and hearts be open for Christ, who is a 'true light that has made known the Father'. (John 1)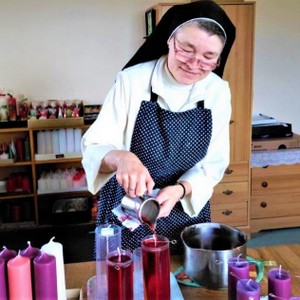 There are no reviews yet.