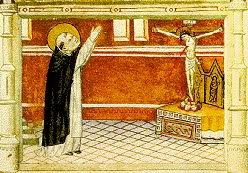 As we continue our short reflections on St Dominic in our Novena, I would like to say a word on St Dominic and Prayer. The following lines from the psalms are significant:
"I have called to you Lord: hasten to help me! Hear my voice when I cry to you;
Lord let my prayer rise before you like incense,
The raising of my hands like an evening oblation." (Ps 14:1-2)
This sums up for me so well St Dominic's prayer.